**The posts I write might contain affiliate links or be written in collaboration with businesses or brands. Please see my disclosure policy for more information.**
It's time for Weekend Links! This is my chance to share the best-of-the-best in regards to bookish fun and resources that I have encountered over the course of the week. This week I stumbled upon a bounty of booklists just for our boy readers. Some of these are excellent! Enjoy
9 Thrilling Book Series for Teen Boys That They Won't Be Able To Put Down  via @brainpowerboy

10 BEST Middle Grade Books for Boys –  via Written Reality (@MitziCSmith)

50+ Amazing Adventure Chapter Books for Boys  via @JennyEvolution

The Mighty Boy Reading List: Ages 9-12 at I Think we Could be Friends.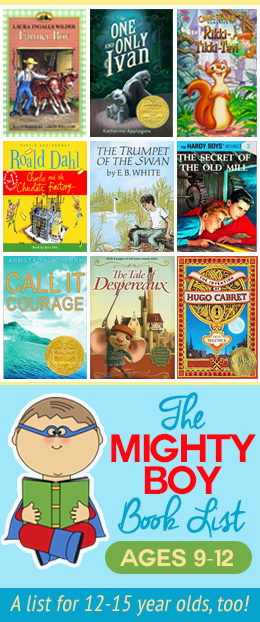 Wacky Books for Reluctant Readers –  via @imaginationsoup

40 MORE Books for Boys at the Milk and Cookies Blog
The Ultimate Book List For Boys at The Modest Mom Blog

***
Do your young readers love nature and all of nature's critters? Experience the magical story of a family of foxes that took up residence right in the front yard of the author and publisher, Valarie Budayr. The Fox Diaries: The Year the Foxes Came to our Garden offers an enthusiastically educational opportunity to observe this fox family grow and learn together.
From digging and hunting to playing and resting, this diary shares a rare glimpse into the private lives of Momma Rennie and her babies. Come watch as they navigate this wildly dangerous but still wonderful world. Great to share with your children or students, The Fox Diaries speaks to the importance of growing and learning both individually and as a family unit. It is a perfect book for story time or family sharing. Not only can you read about the daily rituals of this marvelous fox family, there is an information-packed resource section at the end of the book that includes lots of facts and even a few "fox movies" that you can enjoy with your family. Grab your copy of this beautiful and inspiring book HERE.