**The posts I write might contain affiliate links or be written in collaboration with businesses or brands. Please see my disclosure policy for more information.**
There is something truly magical about forming a bond with a wild animal. Do I need to say that one must exercise caution ? However one doesn't need to exercise caution when a bond is formed between a boy, a wolf, and the human reading the story. Such is the case with Whispers of the Wolf by Pauline Ts'o.
Whispers of the Wolf is a beautifully illustrated story for children ages 5 and older.  Set among the Pueblo Indians before their contact with Europeans, it tells the story of a young Pueblo boy named Two Birds, coming to know himself through the friendship he has with a small wolf pup that he found while out hunting and gathering herbs with his grandfather. Two Birds who before the wolf pup entered his life was very much a loner. The wolf pup however became an ice breaker and helped Two Birds interact with his peers. During their time together, Two Birds becomes an impeccable story-teller using his wolf as the vehicle to do this. In time, the wolf hears the cries of his fellow wolves in the wild and longs to be with them. Two Birds loved the wolf and understood is desire and let him go.
Whispers of the Wolf is a beautiful picture book set around 500 years ago among the Pueblo Indians of the desert Southwest. A heartwarming piece of historical fiction, it weaves together themes of community, tradition, self-esteem, and respect for all life, creating a realistic portrait of a culture that continues to exert a vibrant, living influence today. -Amazon

In her first release Whispers of the Wolf, Pauline Ts'o wanted to create characters who could have actually lived before the Spanish came and colonized. Many Native American communities in the American Southwest live in villages called Pueblos, in fact the word Pueblo means the village in Spanish. The pueblos of today are distinct communities, each with their own pueblo name, traditions, stories, songs, foods, and many have their own language.
The story is beautifully captured in rich and captivating pastels. I love her illustrations of the wolf, they are spell binding.
Pauline Ts'o is an Academy Award winning visual effects artist who has won many academy awards for her work on Life of Pi, babe, and The Golden Compass. She is also an author, illustrator, and photographer who both wrote and illustrated Whispers of the Wolf.
Whispers of the Wolf is a book that will delight and captivate children, teachers, and parents. I highly recommend and you must know that it has become a family favorite.
Wisdom Tales books creates beautiful books reflecting the cultures and spiritual traditions of our world. They were so kind to give a review copy. Grab your copy (makes a great gift!) HERE.
**Some of these links are affiliate links. That means if you click and buy, I may get a very small commission.
This money goes towards postage and supplies to keep books and ideas in the hands of young readers!
Something To Do
Wolf Facts
Would you like to learn more about the Wolf? Here are some very fun facts  from the International Wolf Center in Ely, Minnesota. This site not only offers wonderful insight on the lives of the wolf, it is a wonderful place to visit. JIAB Head Elf, Becky, has visited this world-renown facility twice and her family has loved it! You can read more details of her family's most recent visit HERE.
Wolf Quest
WolfQuest is a web-based video game that simulates the wolf's hunt for food, habitat and a mate. Play alone or with friends in on-line multiplayer missions. Learn about wolf ecology by living the life of a wild wolf in Yellowstone National Park. Oddly enough, Head Elf, Becky told me that her family loves this games as well and learned about it from The International Wolf Center. The Center has two computers with this game on it available for visitors to play and learn while on site!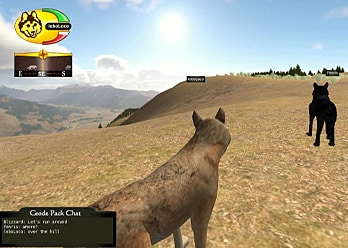 Map Skills
What states are in the Southwest region. Look at a globe or an atlas or even do a search on the internet to discover which states exist in the southwest region of the US.
Pueblo Natives
Here's an introduction to the Pueblo Indians.
Adobes
Pueblo homes can have multiple levels that you reach by climbing a ladder. Did you know that some Pueblo homes don't have doors and windows but enter their homes through a hole in the roof via a ladder.Go exploring !!! Find different photos and pictures on the web searching Pueblo homes. Discuss the differences and the similarities to the house you live in. Now here comes the fun part, make a model of a Pueblo home.  In your research, discover if the pueblos of today have doors and windows or if they continue the old traditions. Please try and make your pueblo as authentic as possible.
Pottery
Let's explore Pueblo pottery. A really wonderful story about the art of pot making is Byrd Balor's When Clay Sings.  Remember as you do your research that each pueblo community has its own culture and style of pottery. It's time for you to make a pot of your very own.
Pueblo Pots for Little Hands
You can make your own clay by mixing 1 cup cornstarch, 2 cups baking soda, and 1 1/4 cups water in a pan. Cook it over medium heat, stirring it constantly until it from into clay.Spread the clay onto a smooth surface and knead it until smooth. Cover it with a damp cloth so it doesn't dry out. Let it cool.
Directions:
Roll out a flat slab of clay for the base of your pot.
Roll long ropes of clay with the palm of your hands and spiral the clay ropes around and around the base of your pot.
Smooth the surface of each row with wet fingers. Then let your pot dry for a day or overnight.
The next day feel free to paint your pot !!!
Pueblo Pots for Older Hands
This pueblo pot activity is good for kids ages 6-13 and gets more in-depth and with more detail than the above activity.
Kachina Dolls
Kachina dolls are hand-carved representations of the ancestral spirit-beings of the Pueblo Indians. The dolls are used to teach children the identities of the kachinas and the symbolism of their colorful costumes.Kachinas are viewed as the divine spirits of ancestors who serve as intermediaries between gods and people. Though often associated with the Hopi Natives, Kachina dolls can be found among the Pueblos as well. The Pueblo tradition believes in Kachinas, or sports of their ancestors. There are hundreds of different kachinas and many Pueblo children play with kachina dolls to familiarize themselves with their ancestors and the stories. Research different kachina dolls from different Pueblo tribes. Look at how each one is different and discover what it represents. 
Now it's time to make a kachina of your very own. If you're doing this in a classroom, or with family and friends, be sure to share with each other who your kachina is representing. Here's one version and here are some more ideas.
Flat Kachinas
Using geometric patterns, black paper and white chalk is another way one can make a kachina doll. Go ahead and add feathers, and don't forget to use lots of color. For ideas have a look here.
Pueblo Children's Game
Corn Husk Shuttlecocks
In the shuttlecock game, children make shuttlecocks out of bundled corn husks and feathers. Children from the Zuni Pueblo use their hands to bat the shuttlecock into the air, keeping it there as long as they can without missing.
Shuttlecock Variation
In another version, children stand in a circle and bat the shuttlecock around the circle to the right.
I invite you to explore the world of the Pueblo Native Americans as well as discovering more about wolves. Whisper of the Wolf is a perfect book to launch such a journey. Enjoy !!!
**some of the above links are affiliate links. I was gifted a copy of Whispers of the Wolf and the opinions expressed are purely my own.