**The posts I write might contain affiliate links or be written in collaboration with businesses or brands. Please see my disclosure policy for more information.**
{guest post by Becky Flansburg}
I'll never forget when my daughter was in 3rd grade and her class was studying famous people affiliated with the American Revolutionary War. Each student was asked to pick a famous influencer from that time period to write a book review and character study one.
My daughter, my reluctant reader, chose Sybil Ludington. I was almost afraid to admit I'd never heard of this person! As it turns out, this book report was a great lesson for both mom and daughter, and also a lesson on remembering the unsung heroes as well.
What brought this back to my memory was the wonderful Facebook post from A Mighty Girl about Sybil that shared her accomplishments and backstory.

"In celebration of Independence Day, we remember a little known hero of the American Revolutionary War, 16-year-old Sybil Ludington. At approximately 9 pm on April 26, 1777, Sybil, the eldest daughter of Colonel Henry Ludington, climbed onto her horse and proceeded to ride 40 miles in order to muster local militia troops in response to a British attack on the town of Danbury, Connecticut — covering twice the distance that Paul Revere rode during his famous midnight ride.
Ridimble. While the regiment could not save Danbury from being burned, they joined forces with the Continental Army following the subsequent Battle of Ridgefield and were able to stop the British advance and force their return to their boats.
Following the battle, General George Washington personally thanked Sybil for her service and bravery. Although every American school child knows the story of Paul Revere, unfortunately few are taught about Sybil Ludington's courageous feat and her contribution to war effort."
If you are as intrigued about this notable young women as I was, here is a Sybil Ludington booklist to check into:
The Horse-Riding Adventure of Sybil Ludington, Revolutionary War Messenger (History's Kid Heroes)
Sybil Ludington's Midnight Ride
Sybil's Night Ride (picture book for children 4 to 8)
Sybil Ludington: Revolutionary War Rider
Founding Mothers: Remembering the Ladies: 
Other Activities:
Test your Sybil Knowledge! Have fun exploring this brave girl's midnight ride with this fun sequencing game from Education World!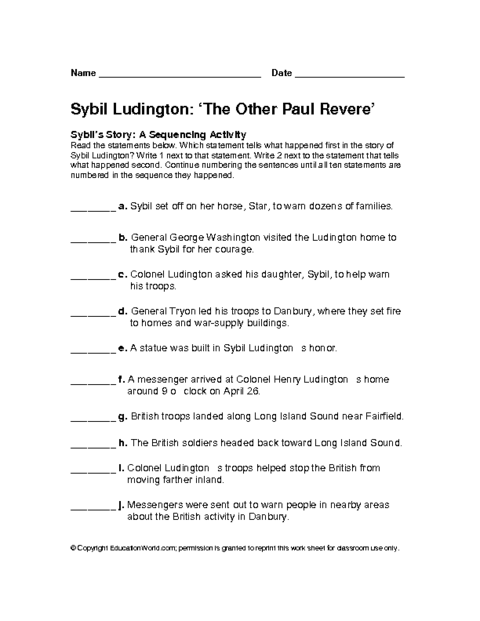 Read more about Sybil's life and family here:
Education  Possible has some really cool Hands-On History: American Revolution Activities
Happy reading!
Becky Flansburg is a Mom, Blogger, and Freelance Writer. Her veteran blog Franticmommy.com is all about moms, kids, parenting, and women in business (with a healthy side order of FUNNY). Rebecca prides herself in the ability to write in a fun, fresh, and conversational way and totally appreciates the value of naps and large quantities of chocolate. You can connect with her on Instagram or on Twitter.