**The posts I write might contain affiliate links or be written in collaboration with businesses or brands. Please see my disclosure policy for more information.**
Right or wrong, many of today's kids do most of their reading on electronic devices so this week I thought I would focus on a fun and unique eBooks from Loud Crow, The Pop-Out Tale of Peter Rabbit , that helps families relive a children's classic tale in a very modern way.  ENJOY!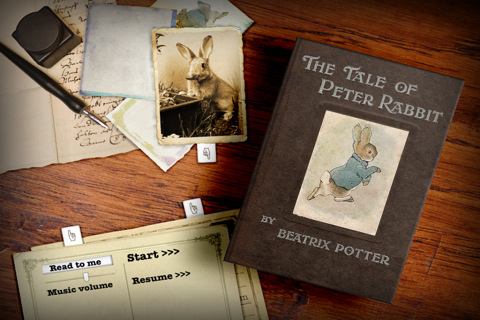 Pop-Out The Tale of Peter Rabbit is an experience unto itself. How many times have I read The Tale of Peter Rabbit? That cute little green book held by my children's little hands. I cannot think of their childhood without including Beatrix Potter.

So what would my opinion be of an ipad/iphone/itouch app that takes this childhood classic and brings it into the 21st century?
Absolutely incredible!
Loud Crow, the makers of this app have pulled together an incredible team of talented people to delight us with the world of Peter Rabbit.
First, there is a wonderful balance between the classic story, artwork and touch technology. The story is read to us by the gentle voice of a British woman while lovely classical piano music plays in the background.
As each page comes into view there are tabs to be pulled, and wheels to be spun, just like in a "real" pop-out book. While we touched each little character, vegetable, leaf etc, sound effects of birds, bees,a breeze, and even a bonfire are playing in the background.
The big highlight for us were the pages that had the "pop-out" elements. Autumn leaves come trickling down. When you touch them they become these beautiful enlarged leaves floating down to the bottom of the page.
Another favorite page are the blackberries. As they sit on the page you can touch them and they squish and splat. We just love that.
One can choose to read the book silently or listen. For young readers they have a read along choice which highlights the words as the narrator reads aloud. There is also a touch word feature. As a child reads silently along, if they don't know how a word is pronounced they can touch the word and it is spoken for them.
The extreme care that was placed in creating this book is visible. Still there is the charming art work of Beatrix Potter, everything else adds to an immersive experience into the world of Peter Rabbit. There is room on the collective bookshelf for both versions of The Tale of Peter Rabbit. So often we want to make things black and white, good and bad, worthy or unworthy. One does not replace the other, each is a unique experience.
After spending an evening with the Pop Out version of Peter Rabbit I can say we were completely enchanted.  We didn't feel it was gimicky or invasive but an authentic experience which left the feeling that we had taken a gentle journey in Mr. McGreggor's garden and met a little rabbit named Peter. We were completely captivated. The kids and I highly recommend this book and wish you many enjoyable moments.
For the record, I purchased this app myself and shared it with my family. All of today's photos come from the Loud Crow website.
PopOut! The Tale of Peter Rabbit
developed by Loud Crow Interactive
eBook app for the iPhone and iPad
$3.99
ages 3 -7
The Pop Out Tale of Peter Rabbit | Something To Do
Group games for kids are awesome for inspiring teamwork and creativity, all while promoting important developmental skills like balance, coordination, and motor control!  Check out Rabbit Hole – one of our most popular group games at The Inspired Treehouse!
Peter and his friends loved to eat and squish blackberries…so let's make some blackberry cobbler! Yum!
–
If your family loves cooking and crafting inspired by a classic children's book then you will love A Year in the Secret Garden!
Here are some past posts that were inspired by this book during something called Secret Garden Wednesdays (too much fun NOT to read!):
Enjoy more month-by-month activities based on the classic children's tale, The Secret Garden! A Year in the Secret Garden is a delightful children's book with over 120 pages, with 150 original color illustrations and 48 activities for your family and friends to enjoy, learn, discover and play with together.
Whimsical author/illustrator Marilyn Scott-Waters and I created this book to not only encourage families to read and participate in some "unplugged" activities, but to also delve into the beauty and the wonder of this classic children's tale. Get the full scoop on this vibrant book HERE and "meet me in the garden!"