**The posts I write might contain affiliate links or be written in collaboration with businesses or brands. Please see my disclosure policy for more information.**
Imagine my surprise (and glee!) a few days ago when I noticed that my latest post was actually Jump Into a Book's 1001 blog post!
That's ONE THOUSAND (plus one) blog posts on books, activities and sharing my love of children's literature!
In hindsight I probably shouldn't have been surprised. I've been creating unique book reviews of beautiful children's books since 2010 and the years have simply flown by.
Proof that, when you are doing something you love, it doesn't feel like work.
During these last 7+ years, much has changed. My youngest son has graduated High School and is in college, Jump Into a Book has recently undergone a transformation and "update" and I've published my fourth book, Dragons Are Real.
AND I know have a side business/project of helping communities build healing gardens, labyrinths and fairy gardens. I am very blessed.
Looking back on my body of work when it comes to Jump Into a Book, I know I have many favorites and I know my readers do as well. So, just for fun, I'd like to share my Top 50 Blog Posts from Jump Into a Book. Give these a peek…you never who what crafts I will be creating or children's book I will be reviewing!
Something To Do Book Reviews
2009 was the first year I started blogging about kids' books on this site and one my favorite childhood books, Blueberries for Sal, was one of the books I reviewed in those early days. I updated this popular post again in 2016 as part of my #ReadKidsClassics series. I am still very proud of both posts.
The Dreidel that Wouldn't Spin | A Hanukkah Picture Book

From the Mixed-Up Files of Mrs. Basil E. Frankweiler
Secret Garden Wednesday has been my way of pulling projects, learning and crafts from my book, A Year in the Secret Garden,  to help bring it too life. Here's a recap:
Anything Roald Dahl is sure to be a crowd-pleaser and this year was no different. Check out my Celebrating Roald Dahl Day with Fun, Freebies and BOOKS post.
The Tomten and the Reynard: A sweet kidlit review to get you in the Holiday Spirit
Sun Bread by Elisa Kleven and Happy Sun Bread Recipe 
A Roundup of Courage and Bravery Books for Girls
Honoring Helen Keller: A Helen and Annie Booklist 
Olivia's Birds: How one young author is fighting to Save the Gulf Birds
Words of Peace for Your Alphabet Tree (#bookreview and word activity)
Reminiscing on The Ultimate Guide to Charlie and The Chocolate Factory
Roscoe Welply and Curious George Gets a Medal (& Awesome Rocket Craft!)
The Boy Who Harnessed The Wind
The Conference of the Birds Review and Book Extensions
10 Ways to Make the World More Beautiful with Miss Rumphius
Children of the Tipi: Life in the Buffalo Days
The Bee Tree by Patricia Polacco (and Honey Bee Activities!)
Jump Into a Book's Most Popular Booklists
Stargazing & Astronomy Booklist for the whole family
22 Books about New York-A New York City BookList for Kids
Raising Global Citizens-Oh To Be in PARIS (A Paris Booklist)
33 Latino Middle Grade Chapter Books You Should Know
Wonderful New Diverse Picture Books honoring Native Americans 
Read Around The Continents: 24 Children's Books About Western Europe
Read Around the Continents: A North America/United States Booklist
Read Around The Continents: Australia/Oceania Reading List
Read Around The Continents: Eastern Europe
Summer Reading Tree: Forming "Roots" for Motivated Readers
Summer Reading Tree- 15 Green Books for Kids
The A-Z Summer Reading Tree: 26 Ways To Encourage Reading This Summer
A Happy 100th Birthday! A National Parks Booklist and More
Notable Women- Celebrating Nature with a Nicola Davies Booklist 
The Kindness Booklist for Kids
An Extra Special #DragonsAreReal Booklist for Beginning Readers
If your #YA #readers Like Percy Jackson, Check THIS awesome #booklist!
An Exceptionally Magical Winter Tomte Booklist!
A Holiday and Winter-themed Booklist for Kids
Star Spangled BookList: Reading for the 4th of July
A Norse God and Viking Booklist!
Victories and Adventures
So exciting! My book Dragons Are Real (illustrated by Michael Welply) has been named to Kirkus Reviews' Best Books of 2016!

Book Pilgrimage | Discovering Harry Potter's Scotland
Author Astrid Lindgren's House in Sweden
A Year in the Secret Garden wins Mom's Choice Award!
And just when I thought it couldn't get any sweeter, I found out today that Jump Into a Book is #26 on Feedspot's Top 100 Children's Book Blogs List! Thank you Feedspot!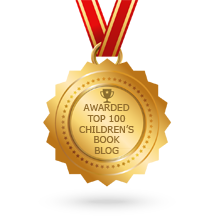 How knows what excitement and book-ish fun 2018 will bring. THANK YOU for your support.