**The posts I write might contain affiliate links or be written in collaboration with businesses or brands. Please see my disclosure policy for more information.**
Books! Books! I have so many books!
I am truly blessed to be able to receive and review children's books from amazing authors and publishers…but I am running out of room on my bookshelf! So what do you do when you have too many books?
You give them away 🙂
All of the following books are brand new and ready to be enjoyed by new readers. For the next few months, I am going to try to do a monthly giveaway of at least 6 beautiful children's books so they can keep on giving joy. Welcome to my April Picture Book Kidlit Book Bundle Giveaway and Good luck!
April Kidlit Book Bundle Giveaway Titles!
Wayward Sea Turtle: A Story About Choices, Mistakes, and Saving Grace by Laura Joy Pewitt.
The story is about a newly-hatched sea turtle who instinctively begins his journey from sand to water by following the light of the moon.
Somewhere along the way, Wally finds himself off course and mistakenly sets path towards the glow of a streetlamp. Wally follows the glow of a streetlight and mistakenly heads off in the wrong direction, where trouble awaits.
BigFoot Goes on Vacation and BigFoot Visits the Big Cities of the World, (stuffed Bigfoot not included 🙂
Not many people can say they've captured BigFoot, but artist D.L. Miller can make this assertion. In his new seek-and-find children's book series, Miller has captured BigFoot with his skilled illustrations, that is! In a four-book series, BigFoot is seen throughout big cities of the world, on vacation, at famous landmarks, and he's even spotted going back in time! The debut titles for this series are BigFoot Goes on Vacation and BigFoot Visits the Big Cities of the World,.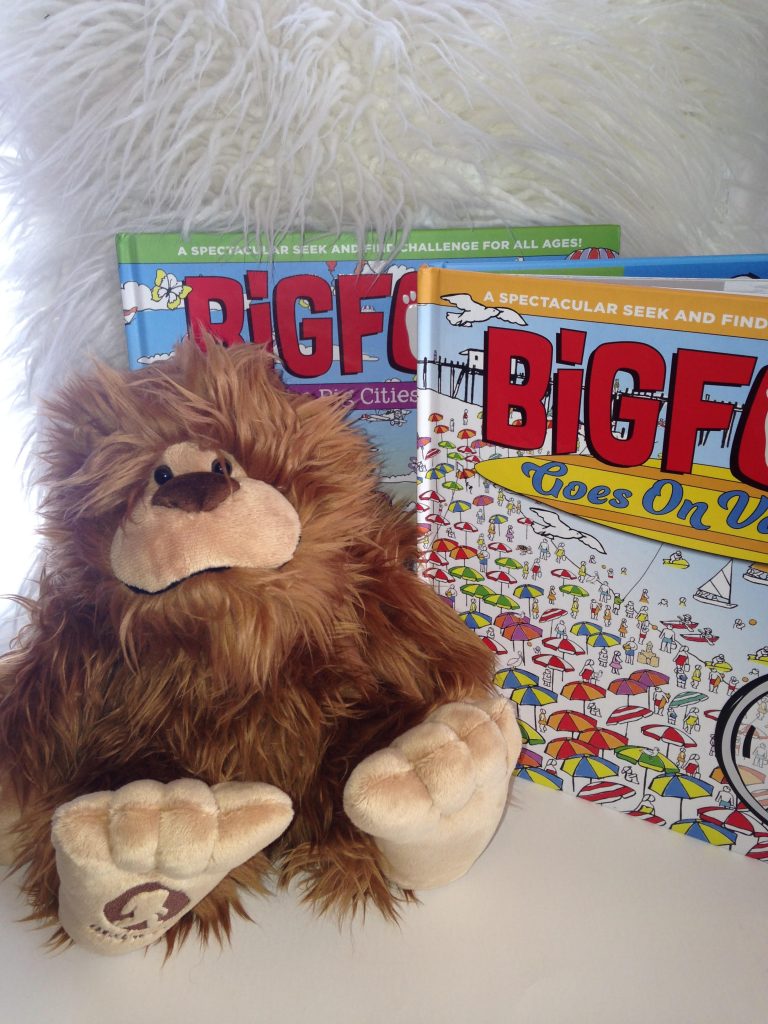 Experience the magical story of a family of foxes that took up residence right in the front yard of the author and publisher, Valarie Budayr. The Fox Diaries: The Year the Foxes Came to our Garden by Valarie Budayr.

From digging and hunting to playing and resting, this diary shares a rare glimpse into the private lives of Momma Rennie and her babies. Come watch as they navigate this wildly dangerous but still wonderful world. Great to share with your children or students, The Fox Diaries speaks to the importance of growing and learning both individually and as a family unit. It is a perfect book for story time or family sharing. Not only can you read about the daily rituals of this marvelous fox family, there is an information-packed resource section at the end of the book that includes lots of facts and even a few "fox movies" that you can enjoy with your family.
Hidden Dangers by  Lola M. Schaefer and illustrator, Tymn Armstrong.
From the Golden Poison Dart Frog or the Tarantula Hawk Wasp to the mighty Hippo and Grizzly, Lola and Tymn have created a beautiful tapestry on each page that challenges the readers to spot the creature before it spots them! They also invite readers to dig deeper into the facts about each dangerous critter so they can learn how to spot, and survive, and encounter with one.
"Like us, animals try to avoid danger. But if someone, or something, invades their turf and startles them, they'll use their natural defense mechanisms to protect themselves. In some cases, their defense is nothing more than a harsh sting. Other times, it may be a venomous tentacle, barbed quills, or poison-oozing skin. Just like in the real world, you may not see all of the animals in the book at first glance. Take a few moments to look under leaves, stare closely at a wave or peer into a dense forest. Sometimes danger is right in front of you~"
GIVEAWAY RULES
ONE winner will receive a copy of each of the above books. Giveaway runs April 17- April 30, 2018
Prizing & samples  courtesy of Authors of the above books
Giveaway open to US addresses only
ONE lucky winner will win one copy of each of the above books.
Residents of USA only, please.
Must be 18 years or older to enter
One entry per household.
Staff and family members of Audrey Press are not eligible.
Grand Prize winner has 48 hours to claim prize
Winner will be chosen via Rafflecopter on May 1, 2018