**The posts I write might contain affiliate links or be written in collaboration with businesses or brands. Please see my disclosure policy for more information.**
I love books that inspire play and imagination with a dash of nature as well! Howl Like a Wolf! by Kathleen Yale is a perfect example of an interactive picture book for young readers.
Climb inside the minds of animals through creative play! Howl like a Wolf! introduces kids to the fascinating behaviors and habits of some of their favorite animals and invites them to join in the activities of their wild friends, from penguins and leopards to beavers and frogs. This beautifully illustrated interactive guide for children ages 6 to 9 makes nature education fun while encouraging dramatic self-expression, an important part of cognitive, social, and emotional development.
Author and wildlife field biologist Kathleen Yale takes readers into the animal world to learn about the habitats and special skills and behaviors of 15 birds, mammals, insects, and amphibians. Lively illustrations by Kaley McKean make these loveable — and sometimes stinky! — animals leap from the page and into the hearts and minds of kids everywhere.
Original learning exercises to inspire creativity and invoke confidence include:
"See" with your ears like a bat: Wear a blindfold and use sound to locate things.
"Walk" like a penguin!
Rattle like a rattlesnake: Fill a small container with something small and hard, then shake it to tell others to stay away!
Dance like a honeybee: Communicate with your peers by doing a waggle dance.
Sneak like a leopard: Camouflage yourself with face paint or clothing, then try to blend in with your surroundings.
ABOUT THE AUTHOR
Kathleen Yale spent more than 10 years working as a wildlife field biologist and holds degrees in conservation biology and environmental studies. A former scriptwriter for the popular award-winning YouTube channels SciShow and CrashCourse, she currently lives with her family outside Glacier National Park in Montana, where she works as a freelance writer and editor.
Something To Do
Kathleen and her publisher also have created a delightful activity kit — perfect for showing homeschooling parents, group leaders, teachers, and librarians how to use the book to engage children in learning more about animals — available to download from our website at http://www.storey.com/howl-like-wolf-storytime-activity-kit.
Free Wolf Fiction and Nonfiction Writing Frames from Wise Owl Factory
In this post, there are free wolf fiction and nonfiction writing frames. The freebie is located lower in this post. The International Wolf Center has a window viewing area and web cam of fenced forest with live wolves. This is the description of the ambassador wolves in the viewing area:
"The Exhibit Pack refers to the wolves in the main enclosure. Members of the pack may vary as wolves age and new wolf pups are socialized and added to the Exhibit. In Fall of 2012, Exhibit Pack consisted of Aidan and Denali, two northwestern subspecies, born on April 27, 2008 and Luna and Boltz, believed to be great plains subspecies born in March 2012."
Wolf Facts
Would you like to learn more about the Wolf? Here are some very fun facts  from the International Wolf Center in Ely, Minnesota. This site not only offers wonderful insight on the lives of the wolf, it is a wonderful place to visit. JIAB Head Elf, Becky, has visited this world-renown facility twice and her family has loved it! You can read more details of her family's most recent visit HERE.
Wolf Quest
WolfQuest is a web-based video game that simulates the wolf's hunt for food, habitat and a mate. Play alone or with friends in on-line multiplayer missions. Learn about wolf ecology by living the life of a wild wolf in Yellowstone National Park. Oddly enough, Head Elf, Becky told me that her family loves this games as well and learned about it from The International Wolf Center. The Center has two computers with this game on it available for visitors to play and learn while on site!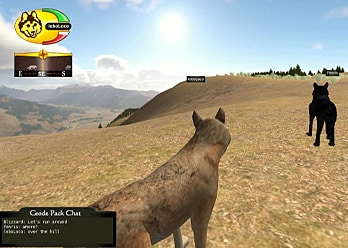 –
Experience the magical story of a family of foxes that took up residence right in the front yard of the author and publisher, Valarie Budayr. The Fox Diaries: The Year the Foxes Came to our Garden offers an enthusiastically educational opportunity to observe this fox family grow and learn together.


From digging and hunting to playing and resting, this diary shares a rare glimpse into the private lives of Momma Rennie and her babies. Come watch as they navigate this wildly dangerous but still wonderful world. Great to share with your children or students, The Fox Diaries speaks to the importance of growing and learning both individually and as a family unit. It is a perfect book for story time or family sharing. Not only can you read about the daily rituals of this marvelous fox family, there is an information-packed resource section at the end of the book that includes lots of facts and even a few "fox movies" that you can enjoy with your family. Grab your copy of this beautiful and inspiring book HERE.