**The posts I write might contain affiliate links or be written in collaboration with businesses or brands. Please see my disclosure policy for more information.**
We may have missed getting this roundup posted in time for National Gardening Month, but appreciating and learning about the food we eat in its most natural state is education kids should be getting all year long. Here is a roundup of wonderful Books and Resources that Celebrate Growing Food.
The Natural Parenting Guide has a great roundup of children's books about gardening that will Inspire the gardening bug in your kids. Enjoy some fun books for kids about gardening and then go out and get dirty planting! | how plants grow | learning about plants | gardening for kids | picture books | homeschooling natural science activities | kid's activities.
The Edible Schoolyard is a 1-acre garden at the Martin Luther King Jr. Middle School in Berkeley, California. The Edible Schoolyard was established by restaurateur and activist Alice Waters through the Chez Panisse Foundation.
Teaching the next generation about the foods we eat in their most natural state is an excellent way to promote healthy habits. The Edible Schoolyard Project has worked for more than 20 years to cultivate and embody their mission – and ensure an edible education for every public school student in the United States.
Research shows that when schools prioritize health and social well-being in tandem with academic goals and extend their mission to involve families and surrounding communities, students thrive. Edible education shapes students' choices at mealtime, and roots them in the relationship between humans and the natural world.
Readers to Eaters
The site Readers to Eaters, founded by Philip and June Jo Lee, is a wealth of books and resource and this husband and wife team has been committed to helping kids and families have a better understanding of what and how they eat since 2008.
The team also created unique initiative like using #FoodHeroes to get kids interested in where food comes from. At the center of the books of #FoodHeroes is Farmer Will Allen; a former basketball star turned urban farmer and educator. Here are some of their food-centric picture books for kids.
Will Allen is no ordinary farmer. A former basketball star, he's as tall as his truck, and he can hold a cabbage–or a basketball–in one hand. But what is most special about Farmer Will is that he can see what others can't see. When he looked at an abandoned city lot in Milwaukee he saw a huge table, big enough to feed the whole world.
No space, no problem. Poor soil, there's a solution. Need help, found it. Farmer Will is a genius in solving problems. In 2008, the MacArthur Foundation named him one of his innovative urban farming methods, including aquaponics and hydroponics.
CHEF ROY CHOI AND THE STREET FOOD REMIX  an immigrant story about the well-known LA chef that was kicked off the national food truck movement for giving Korean and Mexican food a culinary "remix" and also creating worthy jobs in hungry communities. This book has appealed to kids from elementary age to high schoolers in a big way and is also the recipient of the Robert F. Seibert Award Honor Book for Most Distinguished Informational Book 2018 by the Association of Library Services for Children (ALSC), a division of the American Library Association.
Here's a video of Roy Choi showing a middle schooler how to make ramen. It nicely reflects his cooking philosophy to start simply and build up, which mirrors our approach to food literacy too.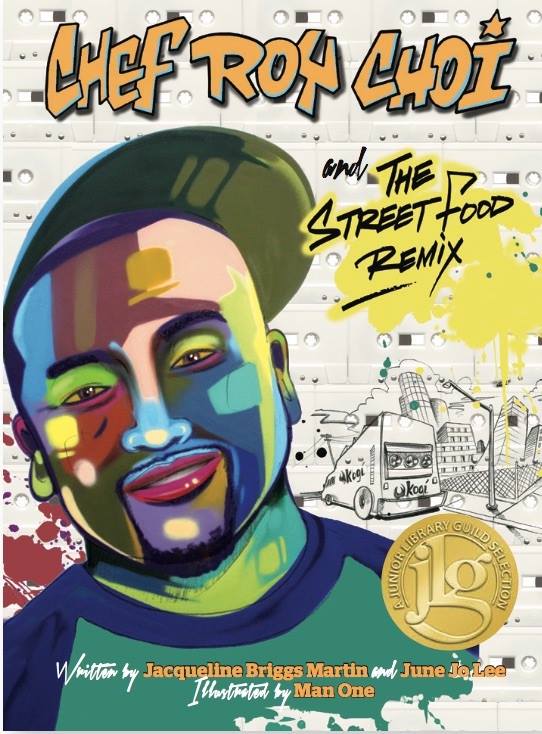 Readers to Eaters has also recently released Our School Garden! by Rick Swann and Christy Hale.
OUR SCHOOL GARDEN is a winner of the #GrowingGoodKids #BookAwardfrom Junior Master Gardener Program and The American Horticultural Society. See these terrific activity ideas that go along with this book here. 
"Our School Garden! draws upon the best parts of what a school garden can be―a place to spark curiosity, explore, work hard, laugh, make friends and deepen academic learning." ― The Edible Schoolyard Project
As parents, we want/need quality books with extension activities to help our young ones unplug and create memories. Pulling books from shelves, and stories from pages is also an important act that will the habit of being life-long readers. Quality books with companion book extension activities are not only working to create special family time, it allows kids to solve the world's problems without major consequences. A Year in the Secret Garden is just such a book.
This delightful children's book that is co-written by Marilyn Scott-Waters and Valarie Budyar and it offers original month-by-month activities that allow readers to delve deeper into the classic children's tale, The Secret Garden.
Within the 120 pages (with 150 original color illustrations and 48 activities)families will find many activities inspired by The Secret Garden that encourages them to step away from technology and enjoy getting hands and feet into the black earth of a family garden. This book will make a great gift and be the catalyst of many hours of family growth, learning and FUN!

Grab your copy ASAP and "meet me in the garden!" More details HERE!