**The posts I write might contain affiliate links or be written in collaboration with businesses or brands. Please see my disclosure policy for more information.**
Animals in the wild, especially ones that are at great risk and endangered don't have a voice.
We need to be their voice. And here's how we can help.
Books that Speak Up For Endangered Animals
What caught my eye instantly with Hello Hello was that there is a Pangolin on the cover. Pangolins, or scaly anteaters, are native to the jungles of Vietnam and are highly poached for their scales which many believe have medicinal properties. They are among the most trafficked mammals in the world.
In Hello Hello, past Caldecott Honor winner Wenzel shows readers through bold and vivid illustration how to say "hello" to creatures of all shapes and sizes.  This seeming simple picture book is a look at similarities and differences that become a story of connection and a proud nod to our diverse and wild natural world.
Though this book does not directly focus on the endangers aspect of animals, we do know that Brendan is a life-long activist and advocate for wildlife. The animals in the book, many of whom are at great risk and endangered also greet each other with cheery "Hellos." The animal groups are linked to each other by traits that start out simple and observable and continue with qualities that are more thoughtful and complex. This book is a "must have" for family and classroom bookshelves!
Snowy the Leopard of the High Mountains tells the compelling tale of a little cub who overcomes danger through friendship, patience, and courage. Snowy becomes separated from her mother as they run away from menacing fur hunters. Lost and lonely, the little leopard cub makes new forest friends who teach her all she needs to know to find her way back home.
This beautiful book teaches respect for animals and nature and the illustrations from Xuna Loc Xuan brings a whole spectrum of emotions to the table. In a kid-friendly way, Snowy addresses the issue of poaching and the damaging impact it has on the endangered snow leopard. It's a heartbreaking fact that each day, one snow leopard is poached – and experts estimate that there are only around 4,000 of them left.
Giant: A Panda of the Enchanted Forest
tells the story of Giant, a panda bear. Giant is lounging in the majestic Sichuan forest, chewing on his bamboo shoots. Suddenly a forest fire starts because people from the city are clear-burning the forest for development! Giant seeks help and tries to extinguish the fire, but everything seems lost. It will only be by the heroic sacrifices of Giant and his friends that the forest and its inhabitants are saved.
This lovely hardcover book addresses the topic of deforestation and the tragic impact it has on animals. This book cleverly shares this issue in a gentle, yet impactful way, encouraging young readers to work towards a better future for the giant panda. Fact: With only around 2060 pandas living in the wild, the giant panda is considered vulnerable of extinction by the IUCN.
Humans are increasing the rate of extinction by up to 10,000 times — and here is a compelling look at some of the most endangered animals. What if the world had no more giant pandas? Or Siberian tigers, Asian elephants, or Sumatran orangutans? Would the ocean be the same without leatherback turtles or Hector's dolphins? Explore these and six more species in a guide with a helpful glossary in this book.
When we think of otters, the words that oftentimes pop into our minds are things like "cute," "playful," "graceful," or "mischievous." But usually the word "endangered" doesn't come to mind.  But, nationwide, river otters are experiencing a resurgence after over-trapping led to near extinction in some areas in the twentieth century. But it's true and that fact needs to be shouted from the rooftops.
Experienced picture book author Artie Knapp and renowned wildlife artist Guy Hobbs pay tribute to these North American mammals, showing children how otters play and survive in their natural habitat.
In this endearing and beautifully illustrated picture book, a baby river otter learns to swim, dive, and play in her natural habitat. Buy your copy on Amazon and go here to learn more about the River Otter Project.
Follow the Moon Home: A tale of one idea, twenty kids, and hundred sea turtles by Philippe Cousteau and Deborah Hopkinson maybe a long title, but the book is a quick and delightful read for kids.
"Unless someone like you cares a whole awful lot, nothing is going to get better. It's not." 
-The Lorax 
How many kids think it would be so cool to see a baby Loggerhead Turtle hatch and waddle over the sandy beach to the ocean, their home? I still think that's cool! and Philippe Cousteau and Deborah Hopkinson tell this wonderful story about one girl, with the help of her friend, classmates, and community, who made a difference and saved hundreds of baby Loggerhead Turtles by spreading awareness in their community about turning off the lights along the beach.
In the back of the book, the authors provide an action plan for a kid who wants to make a change and doesn't know where to start.
Something To Do| Organizations that Speak Up For Endangered Animals
Capstone Publishing is declaring November as Endangered Animals Month and they are using their platform to help students learn about endangered animals and how to #speakup for their protection.  Search #PebbleGo on social media or visit Capstone's website page for quiz, activities, and downloadables related to endangered animals of the world.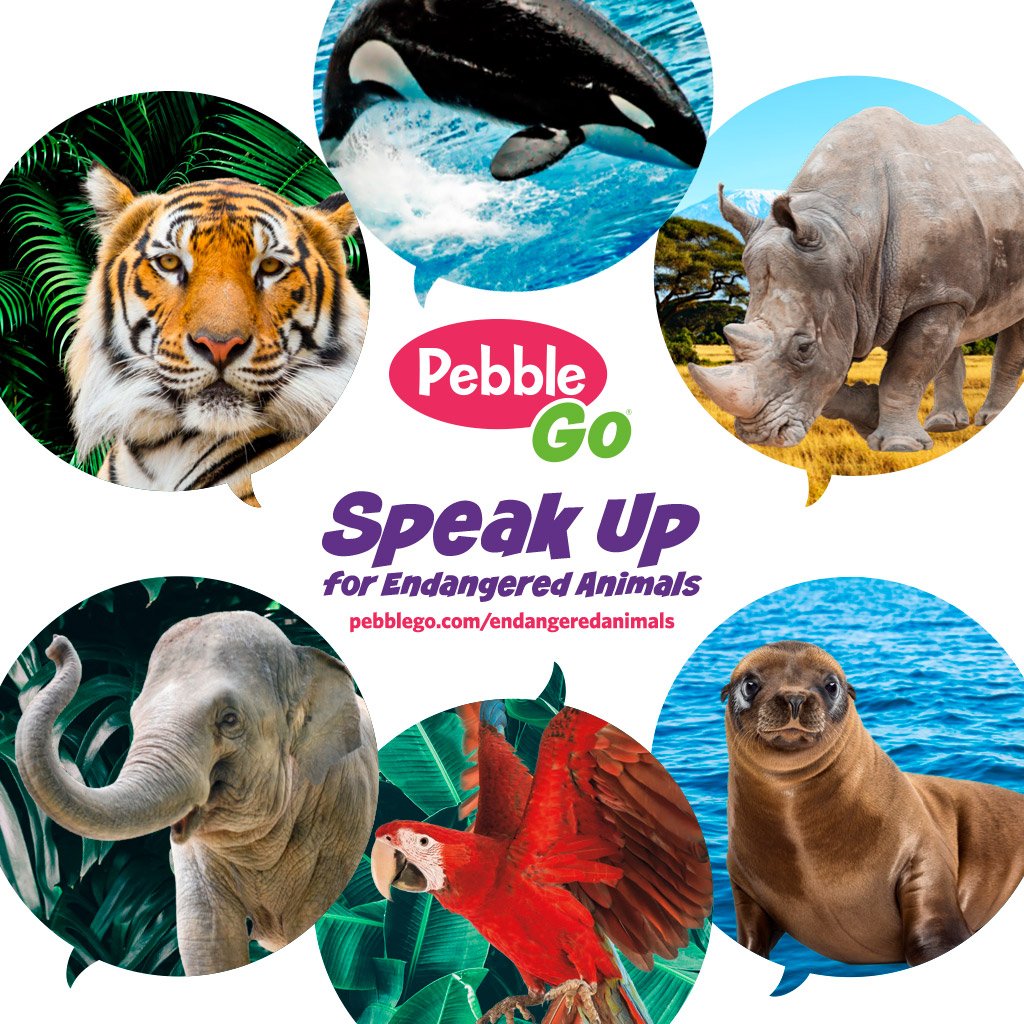 Why Save Species?
Congress answered this question in the preamble to the Endangered Species Act of 1973, recognizing that endangered and threatened species of wildlife and plants "are of esthetic, ecological, educational, historical, recreational, and scientific value to the Nation and its people." Learn more at the U.S. Fish and Wildlife's website here.
Use your Art to get involved with the Saving Endangered Species Youth Art Contest
About Endangered Species Day isn't until March of 2019, but here's how kids, teachers, and families can get involved:
Endangered Species Day is an opportunity for people of all ages to learn about the importance of protecting endangered species and everyday actions they can take to help protect them. Started in 2006 by the United States Congress, Endangered Species   Day is a celebration of the nation's wildlife and wild places. Every year on the third Friday in May (and throughout the month), zoos, aquariums, parks,   botanic gardens, wildlife refuges, museums, schools, community centers, conservation groups and other organizations throughout the country hold   tours, special speaker presentations, exhibits, children's activities and more to celebrate Endangered Species Day.
*2019 Contest Guidelines are here. March 1, 2019 is the deadline for submissions.
World Wildlife Fund, in collaboration with the London Zoological Society, recently published a study entitled, "Living Planet Report 2014," that addresses the fact of global species loss. Overall, the report deduced that in the past 40 years, the world has lost a stunning 52 percent of wildlife.
Deforestation is one of the many reasons certain species are disappearing. With education, people can be taught the value of forests and the importance of caring for them and all life on planet earth. Being educated means to gather all the facts before making a decision. Sites like OneTreePlanted.org EarthDay.org and the ArborDayFoundation.org are working tirelessly on "reforestation" to combat the deforestation.
Supporting these organizations (and others like them) and arming yourself with the facts I've given you will help you know how to make the right decision and be responsible for caring for the earth.
What can YOU do to protect our world's vanishing animals?
---
Experience the magical story of a family of foxes that took up residence right in the front yard of the author and publisher, Valarie Budayr. The Fox Diaries: The Year the Foxes Came to our Garden offers an enthusiastically educational opportunity to observe this fox family grow and learn together.
From digging and hunting to playing and resting, this diary shares a rare glimpse into the private lives of Momma Rennie and her babies. Come to watch as they navigate this wildly dangerous but still wonderful world. Great to share with your children or students, The Fox Diaries speaks to the importance of growing and learning both individually and as a family unit.
It is a perfect book for story time or family sharing. Not only can you read about the daily rituals of this marvelous fox family, but there is also an information-packed resource section at the end of the book that includes lots of facts and even a few "fox movies" that you can enjoy with your family. Grab your copy of this beautiful and inspiring book on Amazon or Barnes & Noble Nook.